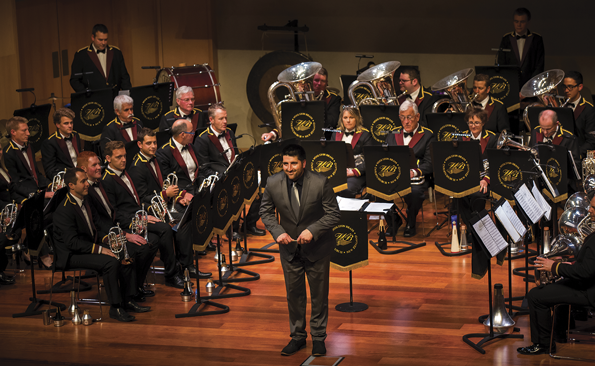 Founded in 1891 the band has remained true to the ideal expressed in its Maori motto, Tohea kia kaha (Persevere, so there is Strength), and is today one of New Zealand's most enduring performing arts institutions.
Woolston Brass is one of New Zealand's most successful contesting brass bands. As current holders of the NZBBA Marching Championship and the CPBBA Championship the band is, and always has been, a force to be reckoned with on the contest stage. Besides its contesting prowess, the band is recognised as a versatile and popular stage performer, be it concert hall auditorium, dance hall, church, retirement village or municipal park! The band strives to perform its culturally unique music to the wider public at every opportunity.
A self-funding amateur music organisation, the band provides a learning facility for developing players, and an artistic outlet befitting those with more experience. With a playing strength of nearly thirty (ranging in age from sixteen to sixty), the members are a diverse mix of business and trades people, teachers, students, soldiers and senior citizens, – all brought together by a common interest and a love of making music.
---

Tyme Marsters
Tyme Marsters was appointed Music Director of Woolston Brass in February 2015. He made his presence felt in the contesting arena six months later when he took the band on to win the A Grade Test at the New Zealand Brass Band Championships in Rotorua.
At the completion of his schooling in Westport Tyme moved to Christchurch to take a position with the New Zealand Army Band, simultaneously embarking on a nine-year tenure with Woolston Brass as a very handy front-row cornet player!
Tyme has represented New Zealand as a member of the National Band and he has made a number of overseas trips performing with this world class combination.
After completing a distinguished 20-year career as a military musician Tyme retired from the NZ Army to become the Founder, Director and Principal Tutor of Brass Factory Canterbury. Here, Tyme utilises his extensive experience as a full-time educator.
Tyme is the current holder of the BBANZ Flugel Championship, an event he has annexed no fewer than four times. Tyme won the coveted Champion of Champions title in 2008.
Woolston Brass considers itself fortunate indeed to have Tyme Marsters steering its course.
---
Recent Contest Results
| 11th -15 July 2018, Blenheim. Chief Adjudicator: Russell Gray (Scotland) | | | |
| --- | --- | --- | --- |
| Section (A Grade) | Music | Points | Place |
| Sacred Item | The Path to Peace (Philip Harper) | 48 | 2nd |
| Test | The 39th Parallel (Peter Graham) | 97 | 1st |
| Own Choice | Perihelion: Closer to the Sun (Philip Sparke) | 97 | 2nd |
| Street March | Ravenswood (William Rimmer) | | 1st |
| Championship Aggregate | | 242 | 2nd |
| 19th -23 April 2017, Wellington. Chief Adjudicator: Nigel Seaman (United Kingdom) | | | |
| --- | --- | --- | --- |
| Section (A Grade) | Music | Points | Place |
| Sacred Item | The Old Rugged Cross arr. Simon Wood | 45.5 | 5th |
| Test | Journey of the Lone Wolf by Simon Dobson | 94 | 3rd |
| Own Choice | Fraternity by Thierry Deleruyelle | 93 | 3rd |
| Street March | Knight of the Road (William Rimmer) | | 1st |
| Championship Aggregate | | 232.5 | 3rd |
| 13th -17th July 2016, Napier. Chief Adjudicator: Dr Robert Childs (United Kingdom) | | | |
| --- | --- | --- | --- |
| Section (A Grade) | Music | Points | Place |
| Sacred Item | Amazing Grace arr: William Himes | 46.5 | 3rd |
| Test | Of Distant Memories by Edward Gregson | 93 | 3rd |
| Own Choice | The Triumph of Time by Peter Graham | 94 | 3rd |
| Street March | Knight of the Road | | 1st |
| Championship Aggregate | | 233.5 | 2nd |
| 8th -12th July 2015, Rotorua. Chief Adjudicator: David Gallaher NZOM (Australia) | | | |
| --- | --- | --- | --- |
| Section (A Grade) | Music | Points | Place |
| Sacred Item | Nicaea arr: William Himes | 45 | 3rd |
| Test | Vita Aeterna by Alexander Comitas | 95 | 1st |
| Own Choice | Extreme Makeover | 94 | 2nd |
| Street March | Knight of the Road | | 1st |
| Championship Aggregate | | 243 | 2nd |
| 9th -13th July 2014, Invercargill. Chief Adjudicator: Dr Stephen Cobb (UK) | | | |
| --- | --- | --- | --- |
| Section (A Grade) | Music | Points | Place |
| Sacred Item | I'll Walk with God by Nicholas Brodszky | 93 | 3rd |
| Test | On Alderley Edge by Peter Graham | 141 | - |
| Own Choice | Of Distant Memories by Edward Gregson | 140 | - |
| Street March | Appreciation | | 1st |
| Championship Aggregate | | 374 | - |
| 16th -20th July 2013, New Plymouth. Chief Adjudicator: Stephen Bulla (USA) | | | |
| --- | --- | --- | --- |
| Section (A Grade) | Music | Points | Place |
| Sacred Item | Just As I Am | 91 | 3rd |
| Test | The Promised Land by Kenneth Downie | 143 | 3rd |
| Own Choice | Audivi Media Nocte by Oliver Waespi | 145 | 2nd |
| Street March | Queensbury | | 1st |
| Championship Aggregate | | 379 | 3rd |
| 4th - 9th July 2012, Timaru. Chief Adjudicator: Dr Robert Childs (UK) | | | |
| --- | --- | --- | --- |
| Section (A Grade) | Music | Points | Place |
| Sacred Item | Ubi Caritas by Paul Mealor arr: D Fiu/S Chapman | 95 | 1st= |
| Test | Breath of Souls by Paul Lovatt-Cooper | 145 | 2nd |
| Own Choice | From Ancient Times by Jan Van der Roost | 146 | 1st |
| Street March | Knight of the Road by William Rimmer | | 1st |
| Championship Aggregate | | 386 | 1st |
| 20th - 24th July 2011, North Shore. Chief Adjudicator: Steve Bastable (UK) | | | |
| --- | --- | --- | --- |
| Section (A Grade) | Music | Points | Place |
| Sacred Item | The Pohutukawa Stands by Peter Meecham | 90 | 2nd |
| Test | Les Preludes by Franz Liszt arr: Bram Gray | 140 | 1st |
| Own Choice | The Red Priest by Philip Wilby | 145 | 1st |
| Street March | Knight of the Road by William Rimmer | | 1st |
| Championship Aggregate | | 375 | 1st |
| 7th - 11th July 2010, Dunedin. Chief Adjudicator: Barrie Gott (Australia) | | | |
| --- | --- | --- | --- |
| Section (A Grade) | Music | Points | Place |
| Sacred Item | His Provision by Ivor Bosanko | 97 | 1st |
| Test | The Torchbearers by Peter Graham | 146 | 2nd |
| Own Choice | On the Shoulders of Giants by Peter Graham | 146 | 1st |
| Street March | Cancelled due to weather conditions | - | - |
| 2010 Band of the Year | | | 1st |
| Championship Aggregate | | 391 | 1st |