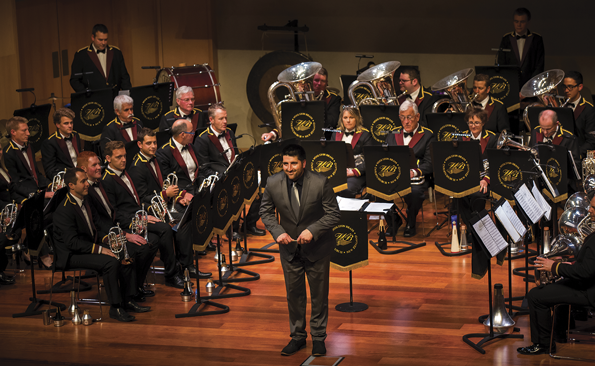 Founded in 1891, iconic performing arts organisation Woolston Brass Inc. has remained true to its Maori motto, Tohea Kia Kaha (persevere, be strong).
Today the Woolston organisation has 120+ members across three brass bands; Woolston Junior Band, Woolston Concert Brass and Woolston Brass, and a Learners Group. Their leading Academy education programme teaches over 80 children and adults, and provides a positive environment for them to learn music and engage with the community through concert performances, local and National contests.
Woolston Concert Brass under the baton of Music Director Kevin Hickman is part of the Woolston Brass Academy and are currently C Grade Champions of the New Zealand Brass Band Championships and Canterbury Provincial Brass Band Association Contest. Many Woolston Concert Brass members progress to Christchurch's iconic Woolston Brass, who are known for their musical excellence and versatility as a popular stage performer – whether it be in the concert hall performing to the Canterbury community in their annual concert series, or on the National, international or local contest stage as New Zealand's most successful contesting brass band.
Woolston Brass' distinguished 131 year history records an abundance of championship success, overseas expeditions and talented musicians whom many have represented Woolston in National and Youth Bands of New Zealand. Under the baton of Music Director Tyme Marsters since 2015, recent contest successes include winning the 2021 CPBBA Championship and 2nd place in the 2021 NZBBA Championships. The Band also won the 2021 NZBBA Marching and Drum Major Championship titles under the mace of Todd Turner. Recent performance highlights include the successful southern-hemisphere premiere of Brassed Off Live, concert series with Grammy Award Winner Heldentenor Simon O'Neill and performing with local guest artists at their annual ANZAC Variety Concert.
Woolston Brass Incorporated is embarking on a capital campaign towards the rebuild of The Sid Creagh Memorial Band Hall, which was damaged in the 2010 and 2011 earthquakes. They have been successful in gaining support from the Christchurch City Council's Capital Endowment Fund that positively kickstarts the fundraising campaign and gives the organisation confidence to secure other major funders. Next year they will launch a public fundraising campaign for the remaining amount required for the rebuild. Woolston Brass Inc. is very grateful for the Council's support, in particular the Council Staff, Elected Members and Councillor Yani Johanson who has been instrumental in advocating for this project. The design of the new facility has a future focus on the organisation's activities and increasing music education and music rehabilitation programmes as well as a space for the community to engage with as a creative community musical hub. The facility will host music teaching, education, rehearsals, recordings, and performances both for Woolston Brass Inc. programmes and other arts groups.
Woolston Brass Inc. exists today for its members to learn, play, perform and inspire each other and the community with excellent and diverse musical experiences. To learn about Woolston Brass' upcoming performances, please visit www.facebook.com/woolstonbrass or email caroline@woolstonbrass.org
---

Tyme Marsters
Tyme Marsters was appointed Music Director of Woolston Brass in February 2015. He made his presence felt in the contesting arena six months later when he took the band on to win the A Grade Test at the New Zealand Brass Band Championships in Rotorua. The band's latest contest success under the baton of Tyme was winning the A Grade Own Choice at the 2021 New Zealand Brass Band Championships to a home crowd in Christchurch with the impressive performance of Paul Raphael's Explorers on the Moon.
At the completion of his schooling in Westport Tyme moved to Christchurch to take a position with the New Zealand Army Band, simultaneously embarking on a nine-year tenure with Woolston Brass as a very handy front-row cornet player!
Tyme has represented New Zealand as a member of the National Band and he has made a number of overseas trips performing with this world class combination.
After completing a distinguished 20-year career as a military musician Tyme retired from the NZ Army to become the Founder, Director and Principal Tutor of Brass Factory Canterbury. Here, Tyme utilises his extensive experience as a full-time educator.
As a soloist Tyme has an impressive record of success, including winning nine national titles, with six of those on Flugel Horn and winning the coveted Champion of Champions title in 2008.
Woolston Brass considers itself fortunate indeed to have Tyme Marsters steering its course.

---