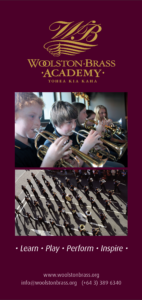 Woolston Brass has three training bands known collectively as the Woolston Brass Academy.
Each of these groups caters for a specific level of ability and meets from 6pm each Tuesday night of the school term at the Sid Creagh Memorial Band Hall, 37 Dampier Street, Woolston, Christchurch. Woolston Learners' Group, under the tutelage of Academy Director Tyme Marsters, caters for children and adults who want to learn a brass or percussion instrument. Members generally have little or no experience when they join, but they will receive personal training and learn the basics of reading music and sounding an instrument in this class. The only prerequisite is enthusiasm and a willingness to learn.
Woolston Junior Band: Conducted by Sarah Hickman, the Junior Band is comprised of players who have the skills required to play in an ensemble, but who have not yet reached the standard required for membership of Woolston Concert Brass. While the Junior Band is obviously the next step for Learners' Group graduates, players from any source are accepted provided they can play to the required standard.
Woolston Concert Brass: Nick Johnson is the Music Director of Woolston Concert Brass. With a C Grade NZBBA registration this band consists of more advanced musicians and competes at both Provincial and National level. While recognising the importance of competition and performance as positive incentives, this band's approach is holistic, seeking to encourage its musicians to succeed not only as instrumentalists, but as active and constructive members of society. The band is currently seeking new members, especially those that may have retired from top-level banding and are seeking a less hectic pace! Our information brochure is available for download HERE.