One account of the band's beginnings records that a Mr Tyrell was the first Bandmaster in 1882. However, an early, undated newspaper report states that the first to wield Woolston's baton was a Mr Charles Bowes, whom is said to have "rehearsed a small band in a Woolston shed on 28th May, 1883". Apparently, Messrs F. Craze and John Pooley succeeded Bowes for a short time. Neither account can be authenticated, but it would be reasonable to assume that all four of these gentlemen had something to do with the origins of the band.
Despite these early vagaries, the band's founding year is formally recognized as 1891 when George Bonnington took charge and reformed the band under the aegis of the Loyal Perseverance Lodge of the Manchester Independent Order of Oddfellows, a long-winded appellation that, perhaps unsurprisingly, only stuck until 1894, when it was replaced with the title, "Woolston Brass Band".
---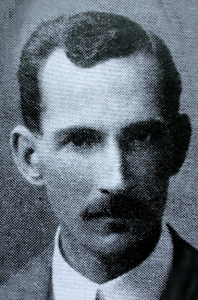 1896~1902 TED DERRY and ALEX LITHGOW
E.C. (Ted) Derry, a well-known name in early Canterbury brass and military (concert) bands, took up the Woolston baton in 1896, during which time the band included reeds amongst its instrumentation.
In 1901, A.F. (Alex) Lithgow of Invercargill March fame took over the baton, only to return to his native Tasmania the following year, when W.V. Siddall, formerly of Invercargill, took over.
---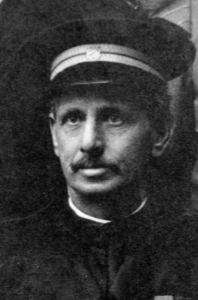 1902~1912 W. V. SIDDALL
W.V. Siddall began his tenure in 1902. He reorganized the band and introduced slide trombones, replacing the valve trombones then in use. Woolston's first ever contest success came under "W.V." in Invercargill in 1909. He is attributed with bringing the Woolston Brass Band from obscurity to a position of prominence at that time. He remained a popular and well-respected conductor until his resignation in1912.
---
1914~1952 R.J. (DICK) ESTALL MBE
Dick Estall first joined the Woolston Band in 1897 as a talented euphonium player. He took up the baton in 1914 "at the urgent request of his fellow bandsmen". The following year Woolston won the South Island Contest under his leadership. This win marked the beginning of a career that confirmed Dick Estall and the Woolston Brass Band as nulli secundus in brass band circles.
Estall steered the band through the lean periods of both the First (1914-1918) and Second (1939–1945) World Wars when many brass players were serving overseas. In the 1930s he was awarded both the MBE and the King George V Jubilee Medal in recognition of his services to music and the community. Once contesting resumed after the war, "Mr Estall", as all but the most senior players addressed him, kept his band at the forefront of what many regard as the halcyon period of brass bands. In 1950 he reached a pinnacle of achievement by winning all events scheduled in the A Grade Championship, thus achieving the band's first ever "Grand Slam".
Dick Estall was a successful businessman and a partner in the Christchurch firm of Estall and Buxton Fibrous Plasterers, and spoke on equal terms with the common man, Mayors and Prime Ministers. He retired as conductor in late 1952 following an illness. RandolphJames "Dick" Estall MBE died in January 1966 age 86.
---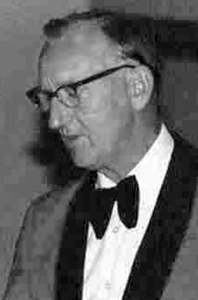 1952~1952 N.G. (NORMAN) GOFFIN QSO LTCL BBCM
After serving overseas during the Second World War, Norman returned to New Zealand to a position as Bandmaster of the Burnham Camp Band, simultaneously joining Woolston as a cornet player. At war's end in 1945 he returned to the Shell Oil Company as an executive in Christchurch, and became Woolston's Deputy Conductor. In 1952, with Dick Estall unavailable through illness, the band attended the Wellington contest under his leadership and achieved a creditable second place in the A Grade. Shortly after being elected a Life Member, Norm transferred to Wellington where he embarked on a long and illustrious musical career in the capital. He was a playing member of the 1953, 1962 and 1974 National Bands of New Zealand and was later appointed a Companion of the Queen's Service Order. Norman Goffin died in the late 1980s.
---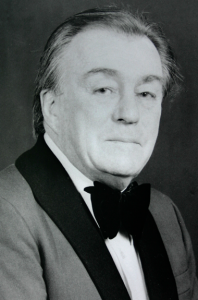 1952~1953 LOUIS R. FOX QSM
An outstanding performer on both cornet and violin, Louis Fox was already a successful conductor prior to his time with Woolston. He took over the baton at short notice late in 1952 and conducted the band to a creditable second place in the 1953 championships. Louis Fox was an extremely popular and outgoing man and, while many hoped that his tenure would be longer, it was not to be. Available funds couldn't match the salary Louis sought, so his talents were employed elsewhere. He was awarded the Queen's Service Medal in 1979 and died in 1989.
---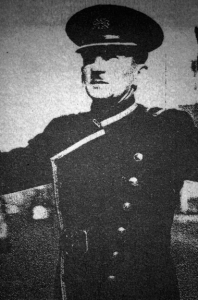 1953~1954 F.A. (FRANK) JOHN
A brilliant trombonist, Frank was appointed conductor on a trial basis late in 1953 – a difficult time in the band's history. Woolston was still very much "Estall's band", and although Frank John proved to be a talented conductor, a placing at the bottom of the 1954 A grade championship indicated that his days were numbered. He failed to win the confidence of the members and his appointment was terminated later that year. He died in 1965.
---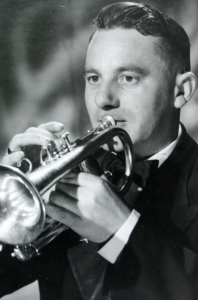 1956~1959; 1961~1963 D.S. (Dave) Christensen
Cornet virtuoso Dave Christensen relinquished the Principal Cornet chair to take the helm prior to the 1956 championships where the points aggregate brought Woolston the title. Dave held the conductorship until 1963, during which time he had the advice and assistance of Tom Kirk-Burnnand, who himself took up the baton for some months in 1960, while Dave returned briefly to the top cornet seat.
Having made a significant contribution both with the baton and as Principal Cornet, Dave resigned from the Band as a Life Member in October 1963. Exactly thirty years later, at 67 years of age, Dave accepted an invitation to join us as a guest player on our 1993 tour of Japan. Post Woolston, Dave enjoyed a 43 year long association with the Addington Band that was to culminate in his 80th birthday celebrations in 2006, a concert titled Down Memory Lane, at which Woolston Brass was honoured to participate.
Dave was Principal Cornet of the 1953, 1962 and 1965 National Bands. He was awarded the Queen's Service Medal for his service to brass bands and the community. Dave died in April, 2015.
---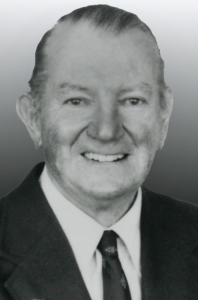 1960~1961 T.J. (TOM) KIRK-BURNNAND
In his heyday Tom Kirk-Burnnand was a well-known character throughout New Zealand's light music scene. He was the founding Director of the wartime Kiwi Concert Party, a conductor, arranger and all-round musician. Settling in Christchurch after the war, he took a close interest in Woolston and was a frequent visitor to the bandroom, becoming advisor to Dave Christensen and then succeeding him as conductor in 1960. The following year he recommended that Dave Christensen be re-appointed and so it was. After Dave's resignation in 1963, Tom again conducted the band for a period pending a new appointment. When he died in the late 1970s the band played Knight of the Road , Tom's favourite march, at his funeral service.
---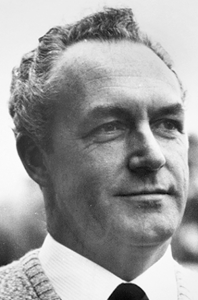 1963~1966; 1968~1970 W.B. (BILL) STEWART
A native of Perth, Scotland, Bill came from a Salvation Army family. He saw military service in the Band of 1st Battalion The Parachute Regiment and after his discharge, he joined the Scottish CWS Band where he was a member of the solo cornet rank.
After emigrating to New Zealand and playing with both St Kilda and Invercargill Garrison Bands, Bill moved to Christchurch and joined Woolston's cornet ranks in 1962. In 1963 he successfully auditioned for the conductorship. Contest results under Bill's baton were always consistent, but placings rather than wins.
After touring overseas with the 1965 National Band, Bill stood aside in 1966 for a new conductor, Brian Barrett, following that year's national championships in Dunedin.
Following Brian Barrett's resignation, Bill became conductor again in 1968. With Bill Stewart again at the helm, the band achieved third placing at the national championships in Christchurch in May of that year. His final national contest as conductor was in 1970 in Dunedin.
Bill Stewart made a fine contribution to the band, which many Woolstonians of his era consider to have been undervalued. In 1970 Bill handed over the baton to Mervyn Waters, and remained as a playing member for the following two national contests. Bill Stewart now lives in retirement in Christchurch.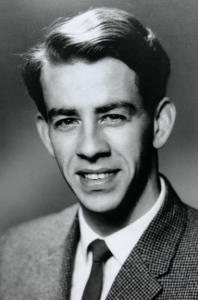 1966~1967 BRIAN A. BARRETT Mus B. (Hons)
Brian Barrett, formerly of Hawera and a member of the 1953 National Band, was a graduate of the University of Canterbury and Head of Music at a local high school. He was appointed as Woolston's conductor in 1966 and made his mark immediately as a serious musician who intended to take the band back to the top of the contest table. He succeeded admirably and brought the band back to the fore in contest results, winning the national championship in 1967 in Wellington – the band's first win since 1956. He accepted an overseas teaching post and moved to Western Australia in 1967 where, tragically, he became ill and died soon afterwards – a huge loss to brass bands and music in general.
---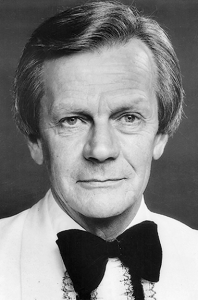 1970~1989 MERVYN J. WATERS MBE, FTCL
Appointed following Bill Stewart's retirement in 1970, "Merv" (as he was widely known) brought a dedication to his task as Music Director that was awe-inspiring. When first appointed, his "day job" was that of a Consultant with a prominent firm of wool merchants in Christchurch, but by the mid-1970s he had re-trained and become an itinerant brass teacher for the Department of Education, a post in which he both reveled and excelled. Aspiring brass players showing potential were given private tuition and the best became members of the band. Some are members still, part of the Merven Waters legacy to Woolston Brass.
His first national contest was that of 1971 in Wanganui, where the band played the then radical Spectrum by Gilbert Vinter as an "own choice" work. A runaway winner, this landmark performance not only secured the championship title for that year, but it also shook the New Zealand band scene to its foundations and cast the die for what was to be a golden era for Woolston.
The band's visit to the United Kingdom in 1975 brought Merv Waters great kudos, with a win in the Edinburgh Festival Invitation Brass Band Contest and fifth placing in the prestigious British Open Brass Band Championship. This result remains the highest yet achieved by a competing band from the Commonwealth.
Contest successes, both at home and overseas, continued apace with the second of the band's "Grand Slams" achieved in Hamilton in 1979.
Merv Waters was appointed Music Director of the 1974, 1976 and 1989 National Bands. He was awarded the MBE for his services to music in 1976 and went on to receive a Fellowship of the Trinity College, London later that year. He was presented to Her Majesty The Queen during the Royal visit of 1977 and he was elected a Life Member of the band in 1980. The band's competitive record, much of it achieved under Mervyn Waters, has yet to be bettered by a New Zealand brass band.
Immediately following the national 1989 championships in Wellington, Merv undertook two days of intensive rehearsal with the National Band which, had he lived, was to have toured China and Japan. On his return to Christchurch he suffered a heart attack and died. The loss of Merv to the band and to the city of Christchurch was marked by a funeral service in Christ Church Cathedral where a standing-room-only congregation met to farewell a little man of great genius who had expanded the Estall legacy bequeathed to the band. Merv built the finest Woolston band of the era, led by example and never spared himself in the task of seeking excellence in all aspects of performance and presentation. His contribution to the band and city of Christchurch as a musician and teacher will never be forgotten.
---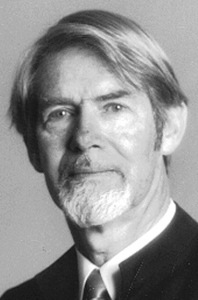 1989~1996 K.G. (KEN) SMITH MNZM
The elder son of legendary conductor K.G.L. Smith, Ken Smith was born in Westport, New Zealand. He was a youthful prodigy and became a virtuoso cornet player, winning the New Zealand cornet championship three years in succession in 1948-49-50.
He left New Zealand for the United Kingdom and Fairey Aviation Works Band in 1950, returning in 1954 after establishing a formidable reputation. Ken conducted St Kilda Brass for a period and later moved to Australia and a senior academic post at the New South Wales Conservatorium of Music. He toured New Zealand, the USA and Canada as a trumpet soloist throughout the 1970s working with leading symphony orchestras including the NZSO. Ken was appointed Musical Director of the 1985 National Band that toured the U.K. and Europe. He has served as an adjudicator in both New Zealand and Australia.
Ken Smith became Woolston's Musical Director in late 1989 following his retirement from the NSW Conservatorium of Music. He soon established an innovative regime with a personal focus on serious music. Ken did not enjoy the emphasis on competition that had always been a Woolston hallmark (the band has not missed a national contest since 1965), and some felt that under his baton, the band's sound changed from the broad, boisterous tones of the Estall/Waters era to a lighter, more delicate style. Ken's many arrangements from the classical repertoire became standard fare in the band's concert and competition programmes.
The band's centenary took place during Ken's tenure in 1991. This milestone was marked by a special concert in the Christchurch Town Hall. Under Ken's baton, a tour of Sydney, Singapore and Hong Kong were also undertaken to commemorate the occasion.
Though contest success was initially slow under Ken Smith, Woolston regained the New Zealand championship in 1993, and did so again in 1994. A further visit to Sydney in 1996 saw the band compete unsuccessfully in the Australian Band Championships once again. Ken retired and returned to Australia in 1996. He was later appointed a Member of the New Zealand Order of Merit for his services to brass bands. Ken died at age 89 in February 2018.
---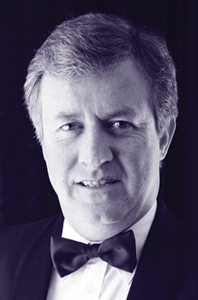 1996~2006 David GALLAHER NZOM, BA, FTCL, LTCL, Dip. Tchg.
A graduate of Otago University, Dave became Music Director in 1996 following Ken Smith's retirement. He introduced a structured rehearsal regime, a rigorous auditioning process and the formation of a Junior Band.
With an impressive first-time-up win at the New Plymouth national contest of 1997, Dave established himself quickly as one of the leading conductors of his time. The band went on to achieve much during Dave's tenure, not just in the concert and competition arenas, but in the recording studio as well, the band's landmark CD recordings Millennium (a much-aired work on Concert FM featuring entirely the works of New Zealand composers), ANZAC and Sacred providing permanent testament to Dave's artistry.
Following a championship win in Christchurch in 2000, Dave's band travelled to the U.K and the British Open Championship, but "Birmingham 2000" was not to be quite what "Belle View 1975" had been. Nevertheless, the band gained a creditable 12th placing amongst some of the world's best.
Dave was appointed Conductor of the 2003 and 2005 National Bands, the latter of which performed with great distinction to take third place at the Inaugural World Brass Band Championships in Kerkrade, Holland.
Dave's distinguished career with Woolston was crowned with a hat-trick of New Zealand Championships in 2000, 2001 and 2002. After a decade at the helm, Dave relinquished the role in 2006 to devote more time to his young, growing family.
In 2010 David Gallaher was appointed to the NewZealand Order of Merit for his services to music.
---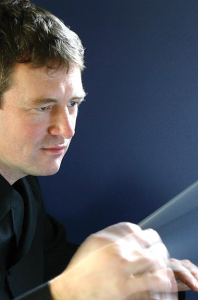 2006~2014 Graham Hickman
After a couple of close-runs, Graham Hickman first hit the bulls-eye in 2008 when under his baton, the band lifted the inaugural Australasian title in Coolangatta, Australia. Six months later he again lead the band to a deft win at the New Zealand National Championships in Napier. This began an historic run of four national championship titles in a row; 2009, 2010, 2011 and 2012, a feat not achieved in New Zealand since 1907
However Graham's real legacy was in repertoire development. Throughout his tenure he promoted a vision of Woolston leading "the continued evolution of the New Zealand brass band movement – in repertoire and the type of engagements bands undertake". He achieved this by developing the repertoire in two distinct directions.
The first paid tribute to our movement's 19th century roots as entertainers of the common folk. Graham introduced a number of genres the band were unfamiliar with (jazz, swing, rock, etc) and developed a repertoire designed purely to entertain. Often incorporating a keyboard and vocalists, he actively sought opportunities to perform this repertoire; the annual Woolston Black Tie Ball (which surprised as many people within the band as without with the bands ability to entertain in this setting), the annual Flaxwood Festival, collaborations with rock group The Eastern, looping artist Adam Page, Julian Hay's online DIY Music Project, and a groundbreaking CD recording of largely jazz standards; Rhythm 'n' Brass.
However the more influential direction was to develop Woolston's high art repertoire, demonstrating to the wider arts community that brass bands are a legitimate art form. Graham re-established links with the Christchurch Symphony Orchestra and Christchurch City Choir, resulting in combined concerts and a CD recording. He championed commissions for original brass works by established orchestral composers, performed numerous New Zealand premiers, and developed the annual performances of ANZAC Remembered, Seriously Brass and Christmas at the Cathedral as vehicles for serious works.
Finally, his tenacity established Woolston as the first brass band in New Zealand to forge an ongoing relationship with their local arts festivals, resulting in brass band concerts being included and promoted alongside the "contemporary and classical music, dance, theatre, and visual arts" that are the standard fare of arts festivals. Although brass bands arguably still have a long way to go before they receive the same respect/funding that other New Zealand arts organisations enjoy, Graham's tenure with Woolston has certainly assisted the process.